Version 4.x.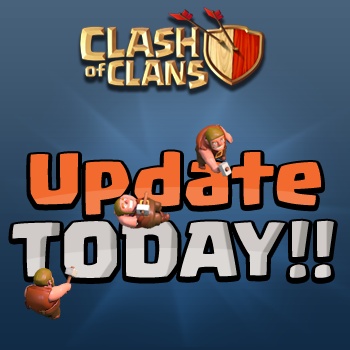 Version 4.x. 2013
The Version 4.x. is one of the many Versions of the Clash of Clans game.
Version 4.120 – 27th August 2013 "Player Profile"
See XP level, league badge and trophy count all in one place.
Includes Achievement progress, clan status, league wins and troop donations.
Hog Rider rework!
Damage increased: the Hog Rider now packs a heavier punch with his sledge hammer!
Hogs now have personal trainers to get them in jumping shape, reducing Hog Rider training time.
New spell, unit and building levels
New clan features
Trophy requirement to join a clan can now be up to 3,600 trophies.
Added cooldown for Elders kicking out Clan Members.
Three of the most challenging, most rewarding Achievements yet!
League All-Star: push your league progress to the limit and earn our highest ever gem rewards!
X-Bow Exterminator: earn Gems for taking out those pesky X-Bows.
Firefighter: destroy the dreaded Inferno Towers and get handsomely rewarded.
Interface Improvements:
Replay sharing improved: shared replays now show loot, trophies and can include a custom message.
Achievement progress is now tracked even after an achievement is fully completed.
Chat can be scrolled all the way to the top by clicking on the tab above it.
Game Balance
Many smaller fixes and tweaks!
Hidden Changes:
Level 6 Wall Breakers' Bomb become a Barrel Bomb.
Global Chat and Clan Chat highlighted when you receive a new message and the scroll is down.
Maintenance – 9th August 2013 "1st Anniversary boost ends"
Today's maintenance break will end the 1st Anniversary boost, I hope you all enjoyed it!! We will also make two tweaks while in maintenance:
Resource collector Boost will be improved (cheaper, lasts longer)
Giant Bomb will be improved (cheaper, more damage)
. . .
Version 4.74 – 29th July 2013 "The Witch"
New unit: the Witch! Skilled in the dark art of necromancy, the Witch reanimates the skeletons of dead warriors. Commanding her undead horde, she's a fearsome sight in battle!
Dark Barracks level 5 upgrade available, unlocks the Witch.
Knock down immovable objects with the unstoppable force of level 6 Wall Breaker!
Share your coolest battle replays with your clan members in clan chat! You may share one replay with your clan every 30 minutes.
You can now temporarily mute a player in global chat. Their messages won't be displayed on your screen.
Top Players leaderboard now displays "Attacks Won" and "Defenses Won" statistics, similarly to League rankings.
Your opponent's name and clan are now visible during a replay.
Decreased Hog Rider's housing space requirement from 6 to 5.
Increased Valkyrie's attack damage (all levels).
Decreased Valkyrie's training cost (levels 1, 2 and 3).
Decreased the upgrade cost of Dark Barracks (levels 2, 3 and 4).
Many other small tweaks and fixes.
Hidden Changes:
. . .
Version 4.54 – 24th June 2013 "Gold Mine & Elixir Pump for TH10"
Added one Gold Mine and one Elixir Collector for Town Hall level 10.
. . .
Version 4.53 – 17th June 2013 "Freeze spell & Japanese"
This update brings an exciting new battle spell, Japanese language support and more!
High Level Magic
Freeze Spell: freeze enemy turrets and ground troops solid! While frozen, defensive structures will be disabled and troops immobilized.
Master the arcane arts with level 5 Spell Factory.
Let the sparks fly with level 6 Lightning Spell.
Cure the most grievous damage with level 6 Heal Spell.
Advanced Warfare
Crush your enemies with P.E.K.K.A level 4.
Upgrade the Cannon to level 12 for awesome firepower.
Make your village perimeter near-impenetrable with level 11 Walls.
Clear your airspace with an additional Air Bomb and a Seeking Air Mine.
Turn on the heat with a second Inferno Tower.
Turn your foes into pincushions with a third X-Bow.
Upgrade your Army Camp to level 8, and muster a truly epic fighting force!
Interface improvements
Japanese language setting now available.
Added speed up option to next Clan Castle troop request.
Players can now attach a custom message to a clan troop request.
Performance was increased with multiple optimizations.
Text sharpness improved.
Battle will not end automatically if player has unused Clan Castle troops or Lightning Spells.
Improved profanity filter for many languages.
Balance tweaks
Heal spell is now more effective (all levels).
Dark Elixir Storage has increased hitpoints.
Jump Spell now affects all troop types even at level 1.
Level 2 Jump Spell duration doubled.
Player level cap increased to 300.
Also many small bug fixes and tweaks!
. . .
Version 4.14 – 23rd May 2013 "Town Hall 10 – the Fiery Fortress"
Introducing Town Hall level 10 – the Fiery Fortress
Brand new defensive building: Inferno Tower!
The Inferno Tower shoots a jet of flame that burns through even the thickest armor.
The flame takes a while to heat up, making it most effective against the biggest and baddest troops.
Stop Heroes, P.E.K.K.As and Golems in their tracks, and shoot Dragons out of the sky!
Be careful: the Inferno Tower can be overwhelmed by a swarm of smaller targets.
Unlock powerful new upgrades with Town Hall level 10:
Additional Cannon, Archer Tower, Giant Bomb and Dark Elixir Drill.
New heroic levels for Barbarian King and Archer Queen.
New upgrade levels for X-Bow and Air Defence.
Attack log and replays!
Watch replays of your attacks.
See a log of your attack history with a record of loot and trophies captured.
Show your most dominant victories to friends and family.
Analyze your toughest fights and improve your skills.
Level 8 Laboratory: better, faster and stronger than ever!
Unleash the ancient Red Dragon (Dragon level 4).
Rock on with Golem level 5.
Support the troops with Healer level 4.
Interface improvements
Chinese language setting is now available.
Hugely expanded keyboard support. Write in any language!
Smileys and other emoji characters supported in chat! Add the special Emoji keyboard in your device settings (General > Keyboard > Keyboards > Add New Keyboard).
Quickly browse through Barracks, Dark Barracks and Spell Factory screens by tapping arrows.
Number of clan troops received is now shown in addition to the number of troops donated.
The center of your village is now marked with a plaque.
Personal breaks enforced for players who stay continuously in-game for very long periods of time.
Balance tweaks
Decreased Healer's housing space requirement, training time and training cost.
Decreased Heroes' upgrade times, regeneration times and upgrade costs on some levels.
Decreased training cost of Golem on level 2, 3 and 4.
Decreased cost of Town Hall level 9 upgrade.
Decreased cost of Laboratory upgrade to level 5, 6 and 7.
Decreased cost of X-Bow upgrade to level 2 and 3.
Decreased cost of Air Defense upgrade to level 7.
Decreased cost of Dark Elixir Drill upgrade.
Also many small bug fixes and tweaks!