Version 3.x.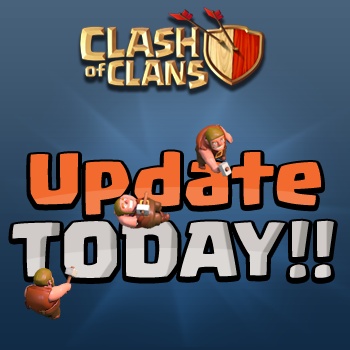 Version 3.x. 2013
The Version 3.x. is one of the many Versions of the Clash of Clans game.
Version 3.124 – 17th April 2013 "Leagues"
Introducing Leagues: compete in your own division!
Joining a League is easy: just own 400 trophies or more!
Get a Loot Bonus out of every victory just from being in a League!
Loot Bonus increases the higher you climb in the Leagues.
New unit, defenses and building upgrades
Rock Hard: summon a mighty Golem with Dark Elixir. A glutton for punishment, the Golem won't stop even if you hack it in half!
Upgrade the Dark Barracks to level 4 to unlock the Golem.
Bolster your defenses with an additional Wizard Tower and a Seeking Air Mine at Town Hall level 9.
Level 5 Clan Castle and level 7 Hidden Tesla upgrade now available, also at Town Hall level 9!
Clan improvements
Clan Leader is now able to send messages directly to Clan Members' inboxes.
Chat message formatting overhauled.
Clan tournament length increased to two weeks, reward doubled.
Troop donation statistics now reset every other week.
Clan troop donation information is now visible to all players, not just Clan members.
Usability improvements
If Clan Castle has space for more troops, "Request" message displayed on top of it.
Added option for rotating a Wall section.
Added confirmation dialog when speeding up unit and spell upgrades.
Attack notification improved for players playing with multiple devices.
Balance tweaks
The percentage of loot that can be stolen from Gold Storage and Elixir Storage was decreased to make it easier for newer players to save up resources. The maximum possible amount of loot remains the same.
Upgrade times for Hog Rider, Minion, and Valkyrie decreased.
Air Bomb explosion radius decreased.
Level 5 Minion hitpoints decreased.
Hidden Tesla trigger radius increased.
Gold Mine, Elixir Pump and Dark Barracks upgrade times reduced.
Spells are now much faster to create.
Balloons explode and deal additional damage when destroyed.
Wall Breaker behavior improved.
Mortar and Wizard Tower don't restart their attack cycle if their would-be target is destroyed, instead they switch targets.
Clan Castle troops deploy faster to the battlefield.
When your village is under attack from flying units only, your melee troops will stay inside the Clan Castle.
Also many small bug fixes and tweaks!
Version 3.54 – 12th March 2013 "Dark Elixir Troops"
Get ready to unleash the true power of Dark Elixir…
Introducing the mysterious Dark Barracks and ultra cool new Dark Barracks troops!
Minions: These fast flying menaces rain down deadly acid on their foes.
Hog Riders: Hammer in one hand and hog reins in the other, these mighty warriors leap over Walls and go straight for enemy buildings.
Valkyries: Armed with mighty two handed axes, these maidens unleash whirlwinds of doom upon everything around them.
If you happen to see dark tombstones, you'll know you're being visited by these awesome new Dark Barracks troops.
Having trouble with walls?
Improved Wall Breaker training techniques have revolutionized the cunning of these fearless demolitionists. Wall Breakers now maximize the potential of each and every bomb, avoiding decoys and distractions.
These crafty new Wall Breakers demanded a bit more elbow room, so they now take up two camp spaces.
Usability improvements!
Players now have an option to move multiple wall pieces at one time. Yay!
Troops can be deployed near Obstacles, so no more getting lost in a sea of flags.
A new Laboratory screen lets you browse available upgrades even while an upgrade is already in progress.
Ever wondered how much loot can you get from Single Players levels? Well now you can find out, just by tapping the map.
The Battle Results screen now shows your loot with spaces between numbers (100 000 instead of 100000).
A handy total destruction percentage is now included in the battle log.
If a Barracks is being upgraded, its queued troops no longer count towards the "Troop capacity after training" count in the Barracks' training screen.
Super Performance!
Our code wizards have made the game run silky smooth, even at the high levels. This means better control over battles.
Improved game balance!
Wizards and Dragons now do small area splash damage.
Decreased training time for P.E.K.K.A
Decreased training cost for Dragon and P.E.K.K.A
Increased hitpoints and damage for level 1-2 P.E.K.K.A and Dragon.
Version 3.25 – 5th February 2013
Cool New Leaderboards
Climb to the top of your Clan; see who's on the rise and who's falling.
New local Leaderboards: who's the best player in your country?.
Clan members who recently joined tagged as "New".
Supersize my Leaderboards! More players now fit onboard.
New unit upgrades!
Upgrade your Laboratory to unlock these mighty level 6 units.
Barbarians get sharper swords and mighty horned helmets.
Archers get new bow techniques and fashionable tiaras from their Queen.
Giants are heartier and hairier than ever.
Balloons are pimped out with spikes and the Jolly Roger.
Air-tight air defense!
New deadly traps to stop airborne attackers: Air Bomb and Seeking Air Mine.
Upgrade your Air Defense turrets to level 7 to shoot down the nastiest dragons.
Turn enemy Balloons into pincushions with the level 11 Archer Tower.
Hero improvements!
Heroes recover health faster thanks to the Alchemists' new sleep potion.
Hero level and stats are now displayed correctly when visiting villages.
Heroes now patrol a larger area and show guard radius when tapped.
Gameplay improvements
We discovered that metal armor conducts electrickery! P.E.K.K.A is now a priority target and receives extra damage from Hidden Teslas.
Spell creation times reduced – blast more magic more often.
Notification when your troops are ready for battle (Army Camps full).
Wall levels 9 and 10 strengthened: hold off the rampaging hordes for longer.
Shop now notifies when new items are available.
New Achievements: Heroic Heist and Mortar Mauler.
Lower reload costs for X-Bow levels 2 and 3.
Tapping a trap shows its trigger radius.
Version 3.3 – 10th January 2013
Heroes!
Introducing Clash of Clans HEROES: The Barbarian King & The Archer Queen!
Heroes are immortal! Unlike other troops, they will not perish in combat. If they are injured, they can simply sleep it off
Dark Elixir
Cool New defenses
Two new X-Bow upgrade levels for maximum firepower.
You can now build two X-Bows on Town Hall level 9.
Two new wall upgrade levels: "Spikes of Pain" and "Flaming Magma".
Know your clan members
Find out who are the most valuable members of your clan! Clan members now get a troop donation score (counted as Clan Castle housing space filled).
Also, the "Friend in Need" Achievement now counts donated troops in terms of Clan Castle  housing space filled.
Added new limits for the clan Trophy requirements. 3000 is the new maximum.
Balance modifications & bug fixes
Barracks level 8 upgrade cost reduced by 30%.
X-Bow range decreased to 11 tiles in Air & Ground mode.
X-Bow ammo capacity decreased by 25%.
X-Bow loading cost displayed in the info screen.
The Winter is over! Santa Spell and Unpleasant Present removed. And it has stopped snowing!
You can now tap and hold the Create Spell button to queue spell production.