Town Hall Level 2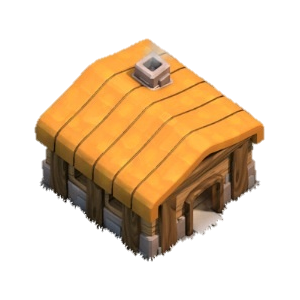 Town Hall Level 2
The Town Hall is the heart of your village and the most important Building in the Clash of Clans game.
At second level the Town Hall gets the roof tiled with orange and has the walls "straightened out" and made of stone.
Description
At Second level the Town Hall has 1,600

, the upgrade cost is 1,000

 and last for 10 seconds. After finishing of the upgrade You will get the Experience: 17

.
At this Level the Town Hall can store the following maximum amount of Resources: 1,000

and 1,000

.
Second level of the Town Hall allows you to build 4 additional Buildings (Total is 17, including the Town Hall itself, Traps and 5 Builder's Huts, but not counting the Clan Castle's ruin).
There is an opportunity to build the first 25 sections of Walls.
Buildings and Troops Available at this Level of the Town Hall
(swipe table right and left)
| Building Types | The Number of Buildings and Their Max Level |
| --- | --- |
| Resource Buildings | x 5 |
| Army Buildings | |
| It's Interesting! | |
| Defensive Buildings | x 25 |
| Traps | – n/a – |
| Regular Troops | |
| Dark Troops | – n/a – |
| Spells | – n/a – |
| Heroes | – n/a – |