Game Control
Game Control
The Game Control is a General element of the Clash of Clans game.
Description
Controlling in the game is made in a easy and intuitive level.
To see information about any Game Control Element at the Game Main Screen, just move your mouse cursor (for PC, except Mozilla Firefox) or finger (for mobile) on it! The image is movable right and left!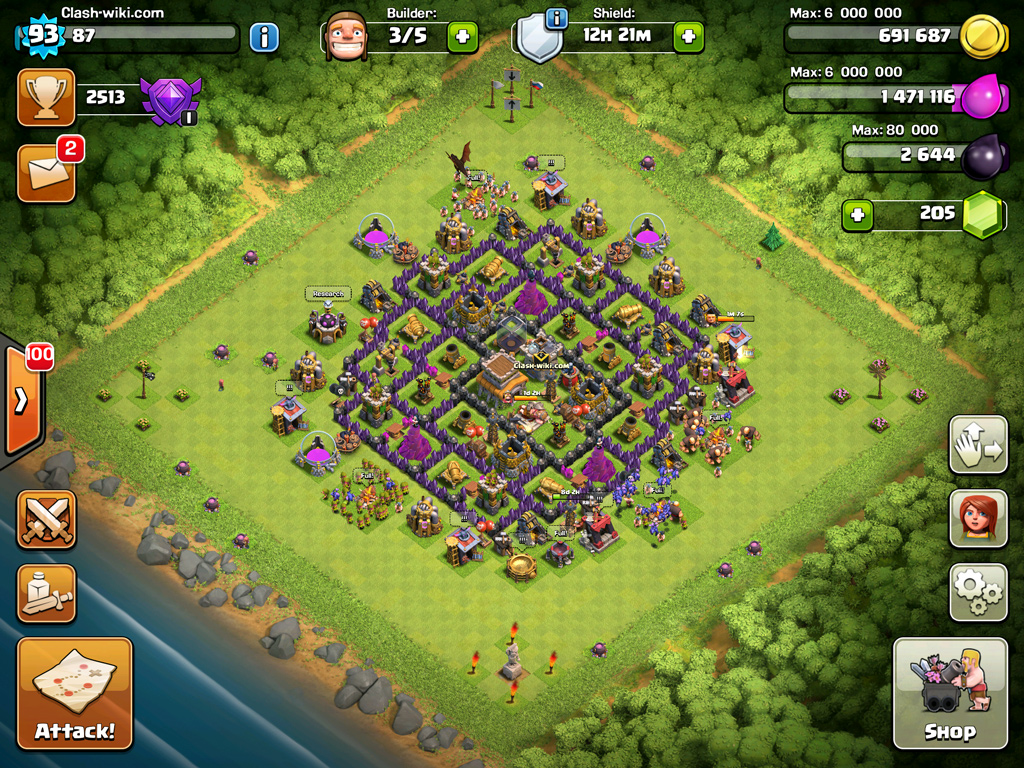 . . .
Description of Game Control Elements
(swap the table right and left)
Location
Game Control Element
Description
Upper left
corner of the screen
Your Name (Clash-wiki.com), Сurrent Level (93) and Experience (87)
See: Experience, Player Level
«Player Profile» Menu
See: Player Profile
«My League / Top Clans / Top Players / Friends» Menu
See: Trophy Leagues, Players Ranking, Clans Ranking
Trophies Count (2513) and Current League Badge ()
See: Trophies, Trophy Leagues
Messages Menu «Defense Log / Attack Log / Inbox» (2 Unread)
Reports of your attacks, attacks on Your village, clan's leaders messages
Top-center
of the screen
Your Builders: Free/Total (3/5) [+] – Builders Purchase Button
See: Builder
The presence and duration of Shield or Guard (12 h. 21 m.) [i] – Village Protection Info Button; [+] – Shield/Guard Purchase Button
See: Shield, Guard

Top right corner
of the screen
Your Gold. Maximum (6 000 000).  Available (691 687)
See: Resources
Your Elixir. Maximum (6 000 000).  Available (1 471 116)
See: Resources
Your Dark Elixir. Maximum (80 000). Available (2 644)
See: Resources
Your Gems. Available (205) [+] – Gems Purchase Button
See: Gems
Bottom left
corner of the screen
Chat Menu «Global / Clan» (100+ Unread)
Messaging, Set new people in a clan, Chat with clan members
«Clan Wars» Menu
See: Clan Wars
«Army Overview» Menu
See: Army
«Attack!» Menu (Multiplayer / Single Player)
See: Raids, Single Player Walkthrough
Bottom right
corner of the screen
«Layout Editor» Menu
See: Layout Editor
«Achievements» Menu
See: Achievements
«News / Settings / More» Menu
Game settings, The latest news, Links to official pages
«Shop» Menu
See: Buildings, Resources, Gems, Shield
Center of the screen
Your Village
Your Village Overview
If you found an error, highlight it and press Shift + Enter or click here to inform us.