Town Hall Level 1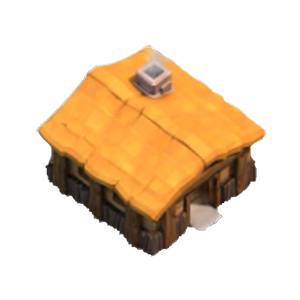 Town Hall Level 1
The Town Hall is the heart of your village and the most important Building in the Clash of Clans game.
When initially constructed, the Town Hall has a crooked orange roof with a small stone chimney. The windows, doorway, walls, and poles are all made out of wood.
<<< Town Hall (General Information)
Description
You start the game with built the Town Hall of the first level.
Among all levels it's has the lowest amount of Hit Points: 1,500

.
At this Level the Town Hall can store the following maximum amount of Resources: 1,000

and 1,000

.
First level of the Town Hall allows you to build 13 Buildings (including the Town Hall itself, Traps and 5 Builder's Huts, but not counting the Clan Castle's ruin).
The Walls are yet available.
Buildings and Troops Available at this Level of the Town Hall
(swipe table right and left)
| Building Types | The Number of Buildings and Their Max Level |
| --- | --- |
| Resource Buildings | x 5 |
| Army Buildings | |
| It's Interesting! | |
| Defensive Buildings | |
| Traps | – n/a – |
| Regular Troops | |
| Dark Troops | – n/a – |
| Spells | – n/a – |
| Heroes | – n/a – |
Making the Model of the Town Hall Level 1 Video (Full HD)