Town Hall Level 10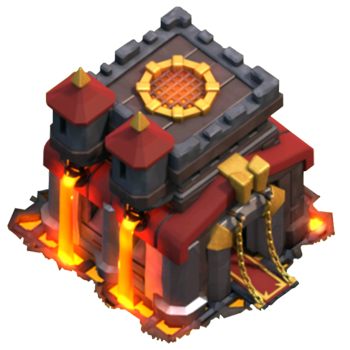 Town Hall Level 10
The Town Hall is the heart of your village and the most important Building in the Clash of Clans game.
At tenth level the color of the Hall changes to a deep crimson red and blue gray. On the top of the Town Hall, there is a metal grate. A second watchtower is added beside the first, and molten lava spills from two openings near the top of the tower down to a trough at the base of the Town Hall. The red carpet entryway receives gold trim.
Description
At Tenth level the Town Hall has 5,500

, the upgrade cost is 5,000,000

and last for 14 days. After finishing of the upgrade You will get the Experience: 1,099

.
At this Level the Town Hall can store the following maximum amount of Resources: 1,500,000

, 1,500,000

and 20,000

.
Tenth level of the Town Hall allows you to build 12 additional Buildings (Total is 113, including the Town Hall itself, Traps and 5 Builder's Huts).
The number of available sections of the Walls increased by another 25 (Total is 275).
The Most Expensive Upgrades
The most expensive upgrades for Elixir at this town hall are Dragon level 5 , P.E.K.K.A level 5, Lightning Spell level 7 and Freeze Spell level 5 for 8,000,000

.
The most expensive upgrades for Gold are X-Bow level 4 and Inferno Tower Level 3 for 8,000,000

.
The most expensive upgrade for Dark Elixir is Archer Queen level 40 for 200,000

.
Buildings and Troops Available at this Level of the Town Hall
(swipe table right and left)
| Building Types | The Number of Buildings and Their Max Level |
| --- | --- |
| Resource Buildings | x 7 x 7 x 5 |
| Army Buildings | |
| Defensive Buildings | x 6x 7x 275 |
| It's Interesting! | |
| Traps | x 6x 6x 5x 5x 5 |
| Regular Troops | |
| Dark Troops | |
| Spells | |
| Heroes | |
Town Hall Level 10 Art