Valkyrie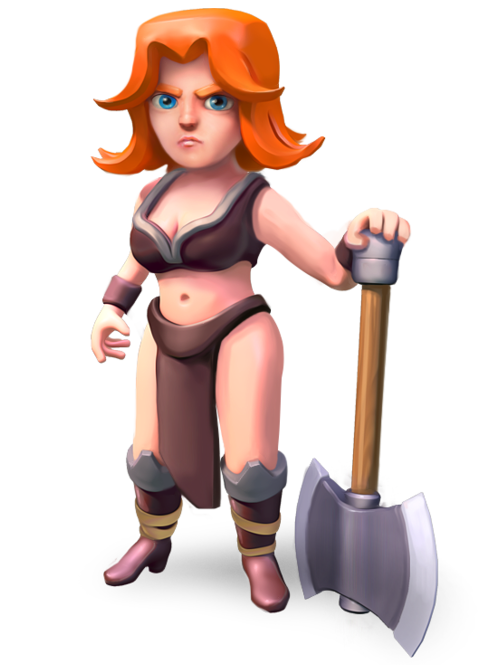 Valkyrie
The Valkyrie is one of many Dark Troops in the Clash of Clans game.
A master of the two-handed axe, this glorious warrior runs between nearby buildings and can shred several troops or buildings at once with her whirlwind blow!
Description
The Valkyrie is a fierce warrior maiden with flaming crimson hair, dressed in a long leather loincloth with matching leather brassiere and knee-high boots. She wields a massive double-bladed axe, which is about half of her size.
The Valkyrie has a total of 4 levels.
She takes up 8 spaces in an Army Camp.
Valkyries have no preferred target when attacking; they will simply attack the closest building to them. However, once they become aware of enemy Clan Castle troops, Heroes or Skeleton Trap skeletons (either by being attacked themselves or being near another friendly Troop under attack), they will leave their previously targeted building and engage the enemy Troops instead. Once all of the nearby enemy Troops are defeated, they will proceed to attack the nearest building from their current location.
Description of common tactics of usage a Valkyrie on a battlefield is Here.
Base Features
| | | | |
| --- | --- | --- | --- |
| Dark Barracks Level: | 3 | Preferred Target: | Any, Ground Only |
| Training Time: | 8 mins | Attack Type: | Area Splash |
| Housing Space: | 8 | Attack Speed: | 1.8 secs |
| Movement Speed: | 24 | Attack Range: | 0.5 Titles |
Upgrading Changes
Initially, the Valkyrie is a tall skinny woman with a steel axe. She wears a bra-like chest cover and a cloth covering her lower half.
At level 3, the Valkyrie changes her steel axe for a golden one.
Visual Differences
(swipe images right and left)
| | |
| --- | --- |
| Valkyrie Level 1 & 2 | Valkyrie Level 3 & 4 |
| | |
Valkyrie Upgrades
(swipe table right and left)
Level
Damage per Attack
Damage per Second
Second/Space Damage
Hit Points
Training Cost
Laboratory Level
Research Cost
Research Time
1
158.4
88
11
900
70
– n/a –
– n/a –
– n/a –
2
178.2
99
12.375
1,000
100
6
50,000
10 days

3
199.8
111
13.875
1,100
130
7
60,000
12 days
4
223.2
124
15.5
1,200
160
7
70,000
14 days
Total:
180,000
36 days
Interesting Facts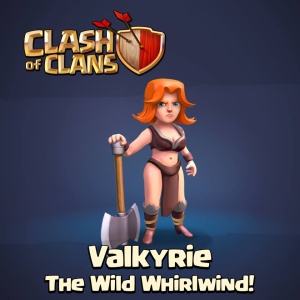 First added to game with the 12 March 2013 update.
As part of the 29 July 2013 update, the Valkyrie's damage was increased.
While the Valkyrie has very high damage per second and hitpoints, she takes 8 minutes to train.
The Valkyrie has the same original face design as the Archer.
You can have a maximum of 30 Valkyries at one time in a complete set of fully upgraded Army Camps. This number increases to 34 if you include the 4 that can fit into a fully upgraded Clan Castle.
Some players refer to her as a P.E.K.K.A with no armor, because she is female and has extremely high damage per second and hitpoints.
The Valkyrie spins around with her heavy axe as she attacks, giving her a 360 degree attack range. This allows her to destroy multiple Buildings at once, making them great for attacking in hordes.
As part of the 3 July 2014 update, the Valkyrie now has modified AI to go find spots between Buildings, and make use of their unique attack. Also, once she has destroyed one of the buildings, she will move somewhere else for a more efficient attack (attacking two at once).
When the Valkyrie attacks, grass flies off from the target area.
People often underestimate the Valkyrie. People often delay the upgrades, but when used correctly it can devastate the village you are attacking, as they could destroy the core of a base in seconds.
The Valkyrie Official Video (Full HD)
. . .