Version 6.x.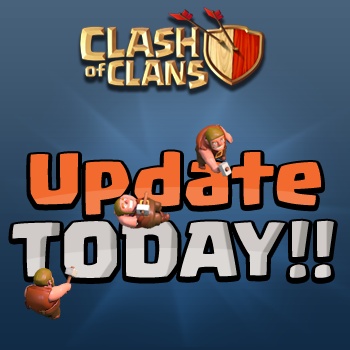 Version 6.x. 2014
The Version 6.x. is one of the many Versions of the Clash of Clans game.
Version 6.407 – 11th December 2014 "Winter is here!"
Bundle up, Clashers! The Winter Update is finally here
Introducing the Layout Editor
Save multiple layouts for both your home Village and your War Base!
Switch between layouts easily at any time
Make copies of existing layouts or build new layouts from scratch
Edit inactive layouts at any time – you can even take a break and finish later!
New goodies
Level 12 Gold Mines and Elixir Collectors at Town Hall 8!
Compare your clan to others in clan local leaderboards!
Other improvements
Under attack? You can now watch a live replay while waiting to load your Village!
Hero ability icons now show remaining hitpoints and will start flashing when low – use their ability to recover some HP!
Resume boost button now shows how much time is remaining for the boost
Pending join requests are now limited to 10 per clan to prevent spamming (additional join requests cannot be sent)
Economy balancing
Upgrading Walls with Elixir is now available only when upgrading to Wall level 9 and higher
The first Dark Elixir Drill is now available at Town Hall 7
The second Dark Elixir Drill is now available at Town Hall 8
Dark Elixir Drill maximum capacity has been increased on all levels
Combat balancing
Archer Towers now shoot twice as fast to better take down weak hordes (total damage remains unchanged)
Inferno Towers now shoot for a longer time before getting depleted (loading cost remains the same)
Army camps have heavily decreased hitpoints – no more stubborn campfires!
Cannons, Barracks, Laboratory, Spell Factory and Dark Elixir Drills have higher HP on almost all levels
Hitpoint values have been adjusted slightly for many other buildings
Lava Pup HP has been slightly decreased
. . .
Version 6.322 – 22nd October 2014 "Halloween"
A spooky update has descended upon Clash! What tricks and treats lie in store?
New permanent trap: The Skeleton Trap!
Ambush and distract your enemies with a small group of Skeleton troops! They might be short-lived, but will certainly get some attention.
Skeleton Traps can be set to target either ground troops or air troops. Find the right mix of trap modes for your village!
Skeleton Traps become available at Town Hall 8 and can be upgraded to deploy more skeletons at once.
Limited-time treats lasting through Halloween weekend
1-gem Spell Factory boost special is back!
Harvest some bonus Elixir from special Halloween Headstone obstacles
Clan profile and search improvements
Specify your Clan's war frequency in your Clan profile, anything from always to never
Specify your Clan's location, or declare it as International
Search other Clans by war frequency, location, member count and minimum clan points, even without specifying a search name
Know what Clan you're searching for
Search via hashtag to get the exact result you need.
Clan descriptions can now be much longer!
Increased League bonus and more War loot
League bonuses increased on all League levels!
More War loot! Increased rewards from victory, defeat and draw
Boost improvements
Boost all Buildings of the same type with one button
Barracks, Spell Factory and Hero boosts will now be automatically paused during maintenance and can be resumed later for free
Slightly reduced boost cost for Elixir Pump level 11, Gold Mine level 11 and Dark Elixir Drill levels 5 & 6
Other Interface Improvements
New Mortar at Town Hall 8
The Hero icons will now show Hero ability status also in replays
Army camp contents are now visible to visitors in the Army Camp info screen
Time to remove Obstacles is now lower
Increased War loot storage capacity on all Clan Castle levels
. . .
Version 6.253.4 – 16th September 2014 "Lava Hound"
At last, update day is here!!! Read all that's new below:
Brand New Dark Elixir Unit: Lava Hound!
This faithful flying unit cannot resist chasing after fireworks, and will go straight after the nearest Air Defense
The Lava Hound's massive hitpoints makes all the incoming damage seem like mere playtime
Though the unit deals very low damage, it will erupt upon death into many tiny Lava Pups that attack any nearby buildings
Available at Dark Elixir barracks level 6, Town Hall level 9
New Upgrades
Wall Upgrading Improvements
Walls level 6+ can now be upgraded with Elixir instead of Gold – your choice!
Select a row of walls to upgrade all pieces with one button press (so long as the cost is not over the maximum possible storage amount)
Replay Improvements
Pause button added to replays (except live replays in Clan Wars)
Replays and live replays now show the attacker's available troops so you can see exactly what does and doesn't get deployed, and when
Live replay screen now shows the time remaining in battle so you can watch the timer tick down just like the attacker
Balancing
Hero regeneration time has been greatly reduced on all levels
Valkyrie training time has been greatly reduced
Healers have been trained to avoid distraction: now they will always try to stick with and protect the same group of friendly troops
Defending Clan Castle troops now use all 4 Castle doors when coming out (overall speed of deploying is still the same as before)
Other Improvements
Troops can be dismissed from Army Camps and Clan Castle
Removed spell production cancellation penalty
Spells are now produced in the same order as they are selected
Looking forward to finding out what you guys think!
. . .
Version 6.186.1 – 3rd July 2014 "Hero Changes"
Finally! An update packed with battle improvements, balancing and content is here! Prepare for the comeback of melee-attacking masters, and intense hero-on-hero battles inside of enemy villages!
Bored Builders? Lazy Laboratory?
P.E.K.K.A level 5 is here to prove its battle prowess: http://supr.cl/PEKKAlvl5
Jump Spell level 3 is here to empower future Jump experts.
Hidden Tesla level 8 will shock your enemies.
Bomb level 6 packs a bit more punch into those pint-sized explosives.
Epic Battle Rebalancing – Show Your Skills and Triumph!
Heroes version 2.0 are here with readjusted strengths, smarter defending, and stronger abilities! Read below for more info.
The Jump Spell has been overhauled and is now amazingly effective! Read below for more info.
Valkyries are now moving like no troop ever has before. Read below for more info.
Inferno Tower multi-mode is now slower at burning through big hordes of attacking troops.
Troops now work together to break through walls, targeting similar wall pieces instead of lots of different ones.
Hog Riders now take increased damage from Giant Bombs.
Training cost of P.E.K.K.A has been reduced.
Hidden Tesla build times have been reduced.
Interface Improvements
Can't stand the suspense of ongoing Clan War attacks? Tap them to watch a live replay of the battle as it happens!
Clan mail messages can now be twice as long.
You can now copy your current village layout to your Clan War base with one button.
Interrupted War Base edits in progress are now properly recovered.
The settings menu has been redesigned with dedicated News and More sections, separate from your Inbox.
Heroes: The New Battle Specialists
The time has come for a smarter, more strategic brand of Heroes. Rather than being foolish, hulking brutes, the King and Queen are now much smarter on defense, have distinct strengths and weaknesses, and their abilities are more important than ever. Check Chief Pat's official interview with Jonas from the development team: http://supr.cl/herochanges
The Heroes have gotten sick and tired of being lured out and squashed in the edges of the map. Now, they only attack targets in a limited territory around their platform and will retreat if they get drawn away too far.
Both Heroes now get a damage increase and recover health when activating an ability. Use the damage boost to get an edge over defending Heroes, or the healing to save them from the clutches of defeat!
Hero abilities now improve much more significantly with each new ability level and summon more supporting troops than before. The best way to make your hero stronger when attacking is to increase their ability level!
Hitpoints and damage for the Queen and hitpoints for the King have been slightly increased at lower levels. However, hero hitpoints and damage have been decreased at higher levels in order to balance Heroes on defense and allow for stronger abilities.
The effect of Rage Spells on Heroes has been reduced to put more emphasis on the skillful use of hero abilities. For the Queen and later levels of the King, bonus damage from hero abilities will far exceed bonus damage from Rage Spells. As before, Rage Spell bonus damage and hero ability bonus damage will not stack (the greater of the two takes precedent).
Heroes now specialize in a certain role:
Barbarian King: The Tank Specialist
His damage has been reduced, but he now can heal himself greatly when using his Iron Fist ability.
The Barbarian horde summoned by Iron Fist has doubled in size to cause even more mayhem!
Use Iron Fist at the right time to help the King take more damage than he ever could before!
Archer Queen: The Damage Specialist
Her hitpoints have been reduced in later levels, but the Queen now gains a tremendous damage boost while her Royal Cloak ability is active.
The duration of Royal Cloak has been greatly increased in lower levels to help make sure the Queen has enough time to land her most powerful of shots.
Use Royal Cloak at the right time to help the Queen hit important targets harder than she ever could before!
Jump Spell: Control the Battle Flow
The Jump Spell used to only affect troops it landed on, often leading to disappointing results. Now, the Jump Spell influences all troops in the battle. Masters of the Jump Spell will be able to direct their melee troops like never before!
All troops you deploy can take advantage a Jump Spell, even if the troops are not directly hit by the spell.
Casting a Jump Spell will now cause troops to redirect themselves immediately if it opens up a more advantageous route close by.
The Jump Spell area has been slightly reduced to allow for more precise control of the spell.
Video: http://supr.cl/NewJumpSpell
Valkyrie: The Wild Whirlwind
The Valkyrie rarely used to put her area-damage to any good use. Now, that has changed in a big way, and you might be shocked by her effectiveness in battle.
Valkyries now charge around and position between pairs of buildings to find the best spots to attack.
See her in action: http://supr.cl/ValkyrieSneakPeek
. . .
Version 6.108.2 – 16th May 2014 "SAVED WAR BASE"
War Base layout and War Base Edit Mode!
Been wanting to keep a separate layout for your War Base? Now you can!
Your War Base layout now has a life of its own and will persist from war to war without the need to touch your regular village.
War Base Edit Mode is available on the Clan War map during preparation day only. Layouts are still locked during battle day.
Upgrades in your village are still automatically applied to your War Base, but remember to place any new buildings into your War Base layout!
Even if you're upgrading your Inferno Tower or X-Bow in your village, you can toggle between different modes in your War Base.
Clan Wars stats improvements!
All new War Stats tab shows lots of new cool war statistics. Find it under the blue star button after battle day begins.
Most heroic victory and most heroic defense replays for each team are featured in the War Stats!
Improved Clan war info pages under the blue star button are now outfitted with war related stats instead of general clan stats.
See information about total war attacks, defenses and war stars won per member in these Clan war info pages.
Clan Wars feature improvements!
Dismiss donated troops from your War Base Clan Castle if they don't meet your standards!
See in the clan chat when a leader or co-leader starts or cancels a Clan War matchmaking.
Each base on the war map is now numbered to help you find bases easier.
The ! notification icon on the war button will appear only once per war during preparation (instead of every session).
Interface improvements
Russian language is now supported in game settings!
Fixed a display bug in spell factory capacity when scouting in war.
A notification will appear in clan chat if Clan War matchmaking fails to find an opponent.
Village edit mode available at Town Hall 3 (previously was 4).
"Request/Full" texts are visible on the Clan Castle even while under upgrade.
Improved the start war screen button layout and behavior.
. . .
Version 6.56.1 – 9th April 2014 "CLAN WARS"
Clan wars! The biggest update in Clash history is here!
Fight clan versus clan in strategic showdowns full of bonus loot!
Fill your clan's War Log with the details of each epic fight!
Participate in Clan Wars at no risk to your resources, shield or trophies.
Battle for two new Achievements: War Hero and Spoils of War!
Clan castle renovation
Gem overgrowth is BACK
The Gem Box is back so keep an eye out for these mysterious boxes packed with gems!
All Gem Boxes will now give more gems than the original ones. We're sorry for the long wait!
Interface and Player Support improvements
If you're not in a League, your attacks won / defenses won statistics will not be shown.
Confirmation button added to Global chat reporting. Report responsibly, Chief!
New Help Center is now available! The first version is in English and you can find it under Settings -> Help and Support -> More Help.
Balance tweaks
Decreased the cost of the Clan Castle level 5 upgrade
Slightly increased HP of level 8 Laboratory
Many more bug fixes, tweaks and performance improvements