Version 2.x.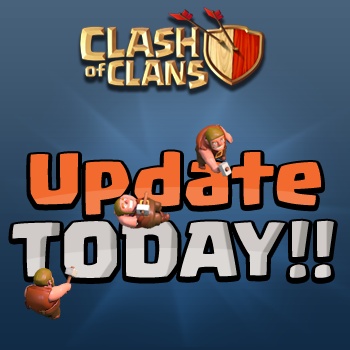 Version 2.x. 2012
The Version 2.x. is one of the many Versions of the Clash of Clans game.
Version 2.111 – 11/19/2012
Introducing Clash of Clans limited time Winter special!
Winter theme complete with the best snow fall effect ever seen!
Surprise your enemies with the Unpleasant Present! Special gift-wrapped explosive trap.
New spell: Ask Santa to deliver a devastating bombardment to your enemy's village.
Rare X-mas tree, can you spot it?
Huge improvements to matchmaking!
Offered matches will now be a lot better and closer to your own trophy count.
Queue system added! Less hitting of the "Find a match" button.
New system will work much faster than before.
Big permanent improvements
Are you in a hurry? Now you can Boost up your resource buildings (starting up at level 5), Barracks (starting up at level 4) and Spell Factory
Leaderboards now shows daily rank changes, see who rises and who falls.
Introducing Army Camp level 7, now you can create even bigger armys!
Attention Town Hall level 9 owners! You can now build an additional Cannon!
Added more space to the village to make it easier to move things around and build bigger villages.
Decorate your village with the Statue of P.E.K.K.A! Only available to players above level 75!
Defending Clan Castle troops have learned how to jump over Walls, just like the Villagers do.
Balance changes and other fixes
Town Hall hit points were increased.
Healer hit points increased.
P.E.K.K.A level 2 and 3 hit points decreased.
Clan Castle shows activation radius once again.
While not officially announced in the release notes, this update also removed the waterfall.
. . .
Version 2.86 – 10/27/2012
Get ready for the HALLOWEEN EXTRAVAGANZA
Town Hall level 9 added!
New defensive turret: the X-Bow! This weapon shoots bolts of Elixir with a super fast rate of fire.
New spell: Jump! Boost your troops over enemy Walls. Upgrading the Jump Spell allows even Giants and P.E.K.K.As to jump over Walls.
P.E.K.K.A has a fearsome new look that can be unlocked by upgrading her to level 3.
New upgrade levels for Cannons, Mortars, Wizard Towers, Spell Factory, Mines, Collectors and Storages.
Bug fixes and other changes
Find your biggest rivals with Clan Search.
Removed the option to sell buildings.
Fixed rare bug that caused build times to be off-sync with shield times.
Fixed a bug that player and alliance trophy counts to be displayed differently.
. . .
Version 2.73 – 10/15/2012
Chat improvements
Global chat is now moderated! Report offensive messages by tapping them and choosing "Report".
Improved profanity filter for global chat creates a nicer and safer chatting environment.
Clan Improvements
You can now set minimum amount of trophies required for your clan. Players won't be able to apply if they don't meet the minimum requirements.
Added notices to Clan chat when members are promoted, demoted, join or are kicked out of the clan.
You can now send a personal message when you kick someone out of your clan.
Other changes:
Players with lower Town Hall levels now lose less resources when attacked by higher Town Hall level players (2 level difference or more).
There is now a short no-attack period after maintenance breaks to allow players to log back in unperturbed.
Added an extra confirmation step when loading village from Game Center to avoid accidents.
. . .
Version 2.44 – 09/18/2012
Full support for iPhone 5 and 5th generation iPod Touch.
Big new feature: Spells! (Spell Factory unlocks on Town Hall level 5).
Introducing three spells: Lightning, Healing and Rage Spell
Replays added to Battle Log! Now you can see what happened when someone attacked your village.
Matchmaking now gives you better matches and works faster.
Troop upgrades are now visualized.
Many visual effects were improved.
Support for iOS 6 Game Center challenges.
Shop and Battle Log redesigned for iPhone and iPod Touch.
You can now view helpful hints while the game is loading.
Added 3rd upgrade level for Dragon.
Fixed the troop donation bug.
Troop training and housing mechanics improved.
Canceling building upgrades does not give the full price back anymore.
Building Walls is instant but requires available worker.
Combat balance tweaks.
Confirmation popup when speeding up building construction and upgrading.
Players gain a very short Shield if disconnected from the server unintentionally.
Server now runs battles to the end if user gets disconnected during battle.
You can now view the clan before you accept the invitation.
. . .
Version 2.21 – 08/30/2012
Introducing new shocking defense unit: Hidden Tesla (unlocks on Town Hall level 7).
You can now see Traps when visiting own clan members.
New Visual effects (Dragon Attack, Wizard Tower attack).
New decoration flags for: Sweden, China, Norway, Thailand, India, Australia, South Korea, Japan.
Added FAQ and forums.
Improved Healer AI
Spring Trap doesn't affect to P.E.K.K.A anymore and her speed has been increased.
Building regeneration times decreased.
Cooldown added to Shield buying (can't be shielded all the time anymore).
Bug fix: Achievements didn't always get updated to the Game Center.