Version 1.x.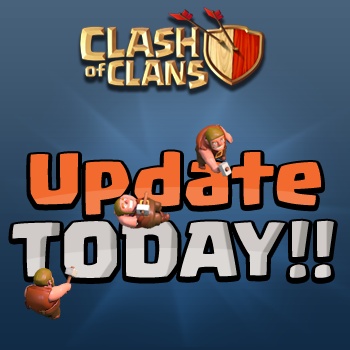 Version 1.x. 2012
The Version 1.x. is the first of many Versions of the Clash of Clans game.
Update – 08/17/2012
Hey Chief, the matchmaking just got a ton better!
We updated the game with a much better matchmaking system, so you should now be able to find more battles! Especially high level players will see a big difference.
Update – 08/10/2012
Hey Chief, we have two cool balance updates for you:
First, fortify your defenses! High level players can now build an additional Mortar to rain destruction on attacking armies. The third Mortar becomes available at Town Hall level 7.
Second, give a boost to your economy! Villages with a level 6 or above Town Hall now have access to an additional Gold Mine and Elixir Storage. Your big plans just got a lot closer to completion.
The update will be applied when you start the game. Keep Calm, Clash On and have a great weekend!
Update – 08/06/2012
Chief, we have astounding news!
The Alchemists report that their potions have suddenly become easier to mix. Now you'll be able to train higher level units for less Elixir. This means that you can field bigger, badder armies and cause more mayhem!
However, quicker and cheaper training will come at a price. Without as much Elixir pumped into them, your high level units will have fewer hitpoints than before, and might not strike with quite as much power.
Luckily, your village will stand a better chance to defend against the hordes of enemies! Bolster your defenses with a brand new Archer Tower upgrade – unlocked at Town Hall level 7 – to mow down the endless waves of attackers.
As a result of these changes, there should be more frequent and violent clashes between high level players.
The update will be applied when you start the game, so get ready for some truly awesome destruction!
Update – 08/04/2012
Cheerio Clashers! We just updated the game with some nifty updates and bug fixes. The game updates itself automatically, so you don't need to do anything else than to start the game and you are set.
So what's new? Well, the wall hit points were increased a bit, training costs were decreased (level 3-5 troops) and some bugs were crushed as they were bugging us.

 Keep it up and don't forget to send in feedback about the game!
Update – 08/02/2012
Players from around the globe, join forces and lead your Clan to victory! Clash of Clans is now available for FREE in 9 languages: English, Français, Español, Nederlands, Deutsch, Português, Italiano, Türk and Norske.
You can play Clash of Clans on your iPad, iPhone and iPod Touch, and it's FREE! Download it from the App Store
Update – 07/30/2012
Just a quick update to let you all know that we have made a fix for the exploit in Clash of Clans that some users took advantage of. It has already been deployed, and no updating is necessary. Sorry for the inconvenience this may have caused to all loyal Clash of Clans players!
Update – 07/02/2012
Prepare yourself for some amazing Retina Display action! Call in your troops and clan mates since we just updated Clash of Clans with some really heavy stuff. Here's a snippet of the new features and fixes available now:
* Ultra high resolution retina graphics
* Wall Breaker behavior with double walls dramatically improved
* iPod crash bugs fixed
* Facebook connectivity fixed
Check out the full list of new growling features in the App Store, and see you on a battlefield!
Version 1.70 – 06/20/2012
The forces of mayhem, our server team that is, just updated the servers for Clash of Clans which should resolve the crash issues some of you may have experienced. Please let us know if the work of wonders did the trick or not!
Clash of Clans By Supercell
Description
=== GAME WILL NOT WORK ON iPOD TOUCH ===
We're fixing these as fast as possible. If you encounter problems with the game, please let us know by sending mail to clashofclans.feedback@supercell.net
Lead your clan to victory! Clash of Clans is an epic fantasy game lovingly handcrafted for your iPad or iPhone.
FEATURES:
FREE TO PLAY
Build and customize your village in to a victorious fortress
Train you fantasy army of 10 completely unique fighting units
Build and upgrade your Gold Mines and Elixir Collectors for you to have enough of resources in your journey
Defend your fantasy fortress by strategically placing cannons, walls, and Traps around your village
Join / create a clan of your own to build up your attacking/defensive power and to compete against other clans
Upgrade your fighters by building up a secret fighter laboratory
Chat with other players around the world to discover strengths and weaknesses of the different strategy's or to just invite them to your clan
Build your village into a mighty fortress that other players can only dream of conquering. Raise an army of Barbarians, War Wizards, Dragons and other mighty fighters. Crush the Goblin Horde and any player who stands against you!
Join a clan of players and rise through the ranks, or create your own Clan to contest ownership of the Realm. Driving back the goblins is just the first step – your quest isn't over until your clan reigns supreme over all others!
First Mention About The Game – 06/14/2012
Let the battles begin! Welcome to Clash of Clans, the most intense and intuitive strategy game ever seen on your device. It's free, it's now available and has more features than you can shake a stick at. Or a sword. Play with your friends or foes, you're the chief. Download it now and conquer the world!